Dehydrating has served to be one of the earliest ways of ensuring food preservation. This is because all that the process of dehydrating food back then required was to come across a safe place for allowing all the moisture from the food to vanish.
The process of dehydrating food helps in concentrating the overall flavors. Therefore, it leaves a sweeter taste later on. Moreover, the herbs also become more flavorful in comparison to the fresh counterparts upon dehydration.
Whether you are looking forward to preserving the over-abundance of your home-grown produce or experimenting with your own flavored items, the process of dehydrating food items serves to be a fun & healthy alternative to snacks that are bought from stores.
Whatever might be your objective, using a handy food dehydrator can help you out significantly.
Importance of Food Dehydrators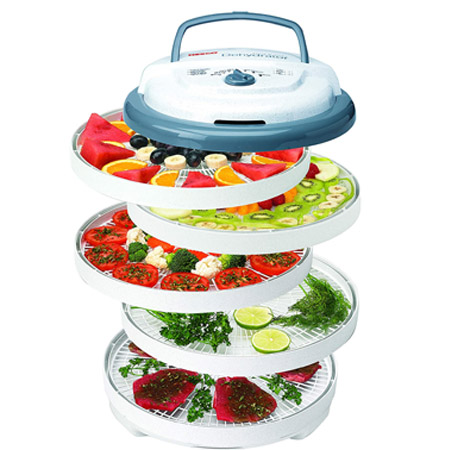 When you make use of electric food dehydrators, the overall drying process becomes quite foolproof. This is because of the overall precise temperature controls along with proper air circulation.
Most of the dehydrators out there come with stackable trays for maximizing the overall drying area. There are some that feature extra-large models based on the amount of food that you wish to dehydrate at once.
If you are in search of the best food dehydrators out there, the one by Nesco is your best option. 
Size of fruits or vegetables, uneven slicing, and varying levels of moisture affect overall drying time in a dehydrator.
Therefore, it is recommended that you should prepare food items in the same thickness and size to ensure the best results.
Still, when you opt for a reliable Nesco Food Dehydrator, you can be assured of the best outcomes.
In this post, we will help you go through the review of some of the best Nesco food dehydrators available.
Top Nesco Food Dehydrators
When it comes to food dehydrators, Nesco is a brand that has acquired a reputation. It delivers the best-in-class models for satisfying dehydration needs of all types.
Whether you are looking for a small countertop appliance for your small kitchen, Nesco has the best models. It is a highly professional model to suffice your commercial kitchen requirements out there.
Here are some of our handpicked ones:
Nesco Gardenmaster Food Dehydrator is available with four dehydrating trays. However, if you need more, you can easily purchase them.
This is because the dehydrator allows around 20 trays to be used at a time. Therefore, the unit offers ample space for drying your food items on the go.
The drying pressure of the appliance is capable of adjusting for the total number of drying trays that are being utilized.
Its temperature control of the unit is digital and easy to program.
Using the same, you can adjust the temperature from 90 Degrees to 160 Degree Fahrenheit.
This unit features a top-mounted fan for even drying. Moreover, you can set the timer to around 48 hours of total drying time.
The attractive Nesco Gardenmaster Food Dehydrator features a white exterior. It is also available with a single screen along with a single fruit roll sheet.
If you wish to try an increased drying space, then you choose the higher model in the Nesco range, with a higher buying price. It features six trays rather than four along with three screens. It also includes three fruit roll sheets, a jerky gun, and 6 packets of jerky spice.
If you are searching for the ideal dehydrator for average-sized amounts of dried foods, then the Nesco Professional 600W Food Dehydrator is your best choice.
The unit is available with as many as 5 dehydrating trays. In fact, the unit can accommodate up to 12 dehydrating trays if you want to dehydrate in bulk batches.
You can adjust the thermostat of the appliance from 95 Degree Fahrenheit to 160 Degree Fahrenheit.
It features a top-mounted fan that has been engineered for sending air downwards and horizontally throughout the food trays. This is to ensure an even drying process.
In addition to the Nesco Professional dehydrator and trays, you also get access to two sturdy liner sheets for drying sauces and other liquid-like items or preparing fruit rollups.
The package comes with two mesh sheets for drying other food items and 3 packs of jerky spices. The beautiful exterior of the unit has been presented in speckled gray.
If you are looking for a perfect dehydrator to dry your fruits, herbs, veggies, and jerky, then the NESCO FD-80A Food And Jerky Dehydrator is the best choice for you.
It is powered by a 700-watt powerhead that provides terrific drying power at its maximum speed and quality dried food.
This dehydrator comes with BPA-free drying trays and high-quality food-grade plastic, which provides 1.2 sq. ft. of drying space.
Because of its expandable trays, this dehydrator allows you to maximize its dehydrating capacity by up to 8 trays.
To get the most out of this dehydrator, the manufacturer added the recipe booklet to its features.
Having an adjustable thermostat, allows you to dry different foods at precise temperatures ranging from 95°F up to 160°F.
The Nesco FD-80A Food And Jerky Dehydrator features the Converga-Flow technology, which provides an even heat distribution without a tray rotation.  With this, you can achieve the best drying result.
The NESCO FD-79 Snackmaster Digital Food Dehydrator is terrific for a variety of foods and top-notch for jerky. (Check out our tips on How Long To Dehydrate Jerky For The Best Results )
To achieve the best results when drying different foods, you need an adjustable digital temperature controller, which this dehydrator has.
Its temperature range is 90°F – 160°F which gives you the flexibility to ensure even drying from the top to the bottom trays.
This easy-to-use home food dehydrator features a programmable digital timer for up to 24 hours.  With an auto-off function, you can easily just set and forget!
Dry more quantity of food in any batch without tray rotation because you can expand up to 12 trays.
The NESCO Snackmaster uses the unique Converga-Flow system.  This produces consistent and even drying that is four times faster than other dehydrators. With 600 watts of drying power providing an even heat distribution, it is perfect for making jerky.
This dehydrator's motor is in the lid and not the bottom so cleaning any drips from making jerky is so much easier.  
Includes 2 clean-a-screens, 2 fruit roll sheets, a sample of jerky cure and seasoning, and a 52-page instruction and recipe book.
Overall, a NESCO FD-79 Snackmaster Digital Food Dehydrator is the best choice if you are looking for ease of use, good temperature range, and modern technology.
Features of a Good Dehydrator
We have highlighted some of the best-performing home food dehydrator models by Nesco. If you are looking to buy a brand-new dehydrator for your kitchen, here are some important factors to consider:
Temperature Range: The presence of a larger temperature range is going to allow for a more precisely controlled dehydration process.  With Nesco home food dehydrators, you get access to excellent temperature controls for making your jerky evenly and efficiently.  All top models allow you to set short and specific temperature intervals for even drying.
Programmable Timer: Some of the lower models in the Nesco range of home dehydrators only turn on when plugged in and off when unplugged.  Moreover, there are some models that are programmable only in 1-hour intervals.  The higher models in the Nesco dehyrator range feature a programmable digital timer for precise food drying.
Size: Dehydrators featuring a smaller footprint help in creating a more efficient dehydrating area.  With all Nesco models, the presence of multiple trays allows for convenient, bulk dehydrating while using minimum space.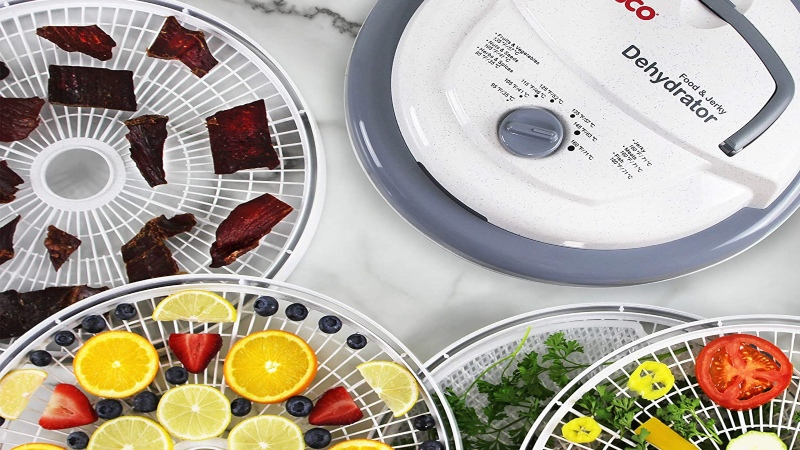 Conclusion
Home Food Dehydrators are very popular these days and the Nesco range produces some of the best.  If you are looking for superior capacity and high temperatures for beef jerky, look to the Nesco Snackmaster.  However, with lots of options available, you should choose one that best suits your requirements and budget. 
If you want to find out more about food dehydrators and how to use them, read our best dehydrators for jerky and our top vegetable dehydrators.