Dehydration is one of the oldest methods of food preservation in the world, and it is arguably one of the best too.  Traditionally air-drying or solar dehydrators were the way food was dried.  This was usually done on racks out in the sun.
Drying is a means of preserving food that keeps all its nutrients and taste and just removes the water content. This means that dehydrated foods can be eaten in their dry state or rehydrated depending on the recipe.  
In our modern world, many people now use an electric food dehydrator for convenience and efficiency.  However, solar dehydrators are still being used and manufactured.  We will show you some of the best and how to use them.
Pantrie Hanging Dehydration System
Growsun 2ft 8 Layer Black Solar Dehydrator
Active Gear Guy Collapsible Solar Dehydrator
Pantrie Hanging Dehydration System
Growsun 2ft 8 Layer Black Solar Dehydrator
Active Gear Guy Collapsible Solar Dehydrator
Yorsvueghe 4 Layer Herb Drying Rack
iPower 4Layer Mesh Hanging Solar Dehydrator
PROTITOUS Herb Drying Rack
Sunflair Portable Solar Oven With Dehydrating Racks
Yorsvueghe 4 Layer Herb Drying Rack
iPower 4Layer Mesh Hanging Solar Dehydrator
PROTITOUS Herb Drying Rack
Sunflair Portable Solar Oven With Dehydrating Racks
What Are Solar Dehydrators?
A solar dehydrator simply allows the air and heat from the sun to naturally dry food. 
The prepared foods are usually placed on racks with holes in them and then covered in some kind of net or mesh.  
They work very well in the right weather conditions and can safely dry fresh food for long-term storage.  
Solar dehydration uses the natural heat from the sun to remove moisture from the meat, fruits, and vegetables to preserve it. 
The method is eco-friendly as it uses the sunlight as the heating agent thereby saving electricity.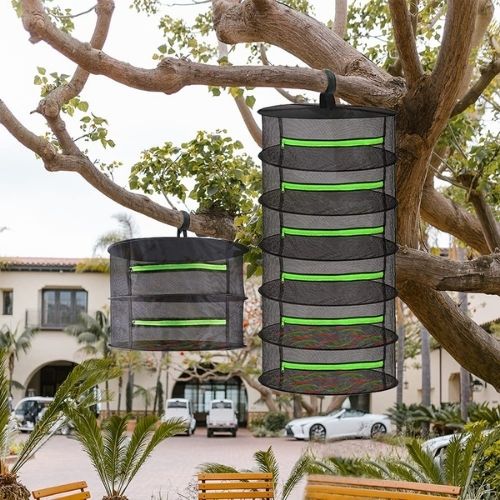 The Advantages Of Using A Solar Dehydrator
There are several advantages to having a solar dehydrator.  One of them is that you will save on your energy bill by using heat from the sun.  Petrol, gas, electricity, and even wood all come at a price irrespective of how much or little you use.  They all require that you spend money to use them. 
But, sunlight is free and natural, you do not need to spend your money.
Another advantage is that the sun comes up every day.  Even in cold climates, you can use a solar dehydrator inside where it can still take advantage of the sun.  In fact, cold climates always have some form of heating in the house and the hot air will dry foods for you.
How To Determine Which Dehydrator Is Best
Finding which solar dehydrator is best for you takes some careful consideration.  There are physical, economic, and technical features that must be taken into account. 
Our experts found many dehydrators on the market.  Different brands, sizes, and designs abound but the following factors have helped us sort them in the order of our preference.
Design and basic physical properties:  When choosing a solar dehydrator, you should always buy one that has a good design.  The dehydrator should not be complex to assemble and use.  Also, it should allow good airflow for even drying.
Quality:  There are lots of manufacturers that produce solar dehydrators.   Always look for a trusted brand with good reviews.
Capacity:  One of the most important things you should keep in mind when shopping for a solar dehydrator is its capacity.  You need one that has enough space to contain the food items you are trying to dehydrate.
Endurance:  Solar dehydration takes place in the sun, usually outside.  Look for a unit that will withstand being out in the sun for long periods.
Price:  Price is a general consideration when shopping for anything – we all look for good value!  Solar dehydrators are not very expensive, so we believe that this is not really a factor at all.
Protection:  Your solar dehydrator is usually put outside so you need protection for the food from insects and flies, plus anything floating in the air such as leaves, etc.
Our Top 7 Solar Dehydrators
Pantrie Hanging Dehydration System
This food dehydrator makes the top of our list for quite a few factors. 
Food will retain 95% of its enzymes, it has a complete instruction book and it can double as a seed sprouter or as a tray to grow wheatgrass.
This dehydrator has a higher price than most on this list, but it is made up for by its great quality. 
It is made from very high-quality mesh with detachable plastic trays.
The hanging solar dehydrator has 5, 13 inches square trays giving it terrific capacity. 
It is ideal for fresh fruits and vegetables, herbs, and jerky.  
Weighing a mere 5 pounds, you can easily fold the unit when you are finished and store it in the box.  
Its square design offers ample drying space, while the large compartments allow for good airflow for drying.  A white plastic guard sits over the unit to protect it from unexpected rain showers.
Featuring a zipper that runs from top to bottom, it allows easy access to the trays.  It also ensures that insects and dirt remain outside the mesh enclosure. 
Growsun 2ft 8 Layer Black Solar Dehydrator
This is another large dehydrator on the list.  It is 24 inches in diameter and 64 inches high with 8 layers. 
If you are looking for something smaller, this brand also makes models in 4 and 6 layers.
Non-toxic polyester mesh surrounding a steel frame gives sturdy support. 
Each layer has a height of 8 inches to accommodate larger items and allow for good ventilation. 
Dry herbs, flowers, meats, and even your delicate clothes.
It has an easy-open design with a front zipper opening each layer to ⅓ of its diameter. 
This allows you to easily remove, add or turn the items in your solar dehydrator. 
Fully enclosed from top to bottom, the fine mesh will protect whatever is inside from insects, birds, and flies. 
It also keeps whatever is being dried contained within its own individual compartment.
It comes with a pair of herb scissors and a handy storage bag.  Take care when opening as this solar dehydrator likes to "spring into action!"
Active Gear Guy Collapsible Solar Dehydrator
An Active Gear Guy mesh solar dehydrator is so much more than just an outdoor dryer for plants and herbs.  
Yes, the fully enclosed mesh column is fantastic to dry for herbs, flowers, and plants, but you can also use it for fruits, vegetables, seeds, and jerky.
8 drying compartments allow for ample drying space and hang it from any hook outdoors to not take up any space. 
Easily collapsible once finished, store and transport it in a handy carry case.
This bonus combo pack comes with 2 pairs of pruning scissors. 
A straight blade pair and a curved blade pair to help with your garden harvest.
Best of all, an Active Gear Guy solar dehydrator comes with a lifetime warranty.
Yorsvueghe 4 Layer Herb Drying Rack
This is another amazing dehydrator that is constructed from heavy-duty nylon mesh over steel wire rings to ensure its firmness and sturdiness.
It is built from eco-friendly material with breathable mesh and each compartment is enclosed with a zipper.
A top handle and included hook mean you can take this versatile solar dehydrator anywhere.
Each layer is about 8 inches in height. 
This allows for good sun exposure as well as ventilation to ensure food is dried safely and quickly. 
Fully enclosed layers mean there is no chance of contamination between the layers, or from anything outside.
This model also comes in 6 and 8 layers depending on your needs. 
All models come with handy storage and carry bag, garden scissors, and hanging hook for your convenience. 
iPower 4Layer Mesh Hanging Solar Dehydrator
This dehydrator is 2 feet in diameter with four layers. 
However, these can be detached into two independent sections each comprising 2 layers.
Each section is built with a breathable nylon mesh and some inbuilt steel wire rings to keep it sturdy. 
It comes in 4 or 6 layer options, with a twin pack of the 4 layer model available.
One thing that makes this dehydrator unique is the size of its drying space.
Its trays are 2 feet in diameter and the 6 layer unit is 5ft high so you will need ample room to hang this monster.
Please note, this is an open solar dehydrator so insects, birds, and other nasties will have access to whatever you are drying. 
It is ideal for plants, flowers, herbs, and spices.  For fresh produce drying, you may need to hang it inside a garage or warm room.
With its large capacity, users have also praised its convenience of loading and drying ability.  Another word of caution, heavier items tend to cause the racks to sag and contents to slide into the middle.  This will affect drying ability as air will not be able to circulate if the items are touching.
That said, it is ideal for lightweight items such as herbs and spices and thinly sliced fruits and vegetables.
PROTITOUS Herb Drying Rack
PROTITOUS Herb Drying Rack, as the name suggests, this product is marketed to those wanting to dry large quantities of fresh herbs. 
It comes in 2, 4, or 6-tier models depending on your needs.
This package includes the 6-tier model, pruning shears, carabiner, and hanging hook plus a handy storage case. 
Pruning shears have precision-sharpened stainless steel blades that have been titanium coated for extended use.
The reason we have included this solar dehydrator in our list is that it has a unique design for its openings. 
Instead of a straight zipper, the PROTITOUS solar dehydrator uses a domed flap which allows easier access, especially for larger items.
Fully enclosed tiers keep any unwanted creatures out and there is ample space within each tier for larger items.
Strong wireframes and high-quality mesh create a strong base for each tier and ensures durability.
All you need is somewhere to hang the unit with indirect sunlight and good airflow.
Sunflair Portable Solar Oven With Dehydrating Racks
This is one of the most versatile solar dehydrators on our list. 
Using reflective technology from the sun not only quickly and efficiently dries food, but acts as a powerful oven as well.
The manufacturers claim it to be the #1 portable oven on the market, but we are interested in its drying capacity.
It comes with a solar thermometer, 2 dehydrating trays, 2 heat-conducting trays for cooking, 2 silicone pots, and enamelware pot, and a carry bag.
The trays are sturdy enough to hold any products you wish to dry.  Take it fishing to either cook or dehydrate your catch instantly.
Weighing only 1 lb, 2 oz this is a truly portable solar dehydrator making it perfect for long trips and those with limited space.
Set up and packing takes seconds and with a state-of-the-art closed-cell, insulation can reach temperatures of 285 F.
It is the most expensive solar dehydrator on our list but its versatility as an oven ensures that it is worth the investment. 
The SunFlair is much respected for its durability and capacity.  However, be careful when closing the unit if it is not sealed properly you may allow ants and insects into the dryer.
For handy tips on solar cooking try Solar Oven Cooking or Cooking With Sunshine.
Conclusion
Solar dehydrators have been around for centuries in various shapes and designs.  These modern drying units use high-quality materials to ensure good capacity and safe food dehydration without using electricity.
Each of the above units has its own unique features and many brands come in 2, 4, or 6 layer models depending on your capacity needs.  Solar dehydrators are generally very cheap to buy and use as they utilize the drying capacity of the sun and wind.  Best of all, they all collapse in seconds for portability making them ideal for camping, RV's, tiny houses, and small space living.
Save money on utility bills and food wastage, eat healthily and even grow your own food in a top-quality solar dehydrator.
If you are looking for an electric food dehydrator or have specific needs to make jerky at home, we have many articles on our site that will help you.