A question we are commonly asked is how long to dehydrate jerky for the best results?  There are not many foods more delicious or healthy than well-made jerky!
Making your own jerky is a great way to ensure that you know exactly what is going into it.  Not to mention, it can be a lot cheaper than buying jerky from the store!  In fact, home-made jerky is cheaper, tastier and much more healthy! 
A must-have for making jerky is a good home food dehydrator.  If you don't have one or you need to upgrade, read our dehydrators for jerky pages.
In this guide, we discuss the different factors that you need to consider when you make jerky at home.  We will also provide  helpful tips on how to get the most out of your jerky!
Factors to Consider in Determining How Long to Dehydrate Jerky
When it comes to the question of how long to dehydrate jerky, here are the factors you need to consider:
Type Of Meat You Are Using
Different meats have different moisture levels, which can impact how long to dehydrate jerky.
For example, turkey or fish will have a higher moisture content than most cuts of beef.  This means that it will require more time to dehydrate.
Thickness Of The Meat Slices
If the slices are thicker, they will need more time to dehydrate completely.  However, keep in mind that with thicker slices you need to watch the process closely.  You don't want jerky that is too dry.  Even worse is jerky that is still 'wet' in the middle!
Jerky slices are between 1/4 to 1/8th of an inch.
Set Temperature
If you dehydrate jerky at a higher temperature, the process will go faster.  However, be careful not to burn the meat – especially those near the heating element!
Also watch that the jerky is dried all the way through – this can be difficult when using higher temperatures.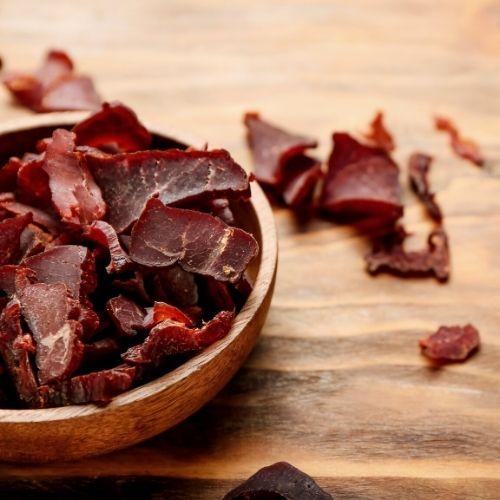 'Chewiness'
Finally, you need to take into account how dry or chewy you want your jerky to be.  If you want it to be on the drier side, you will need to dehydrate it for a longer period of time.
Now that we have gone over some of the factors that you need to consider, here are some tips to get the most out of your jerky!
Tips for Dehydrating Jerky
Marinate your meat before dehydrating it!  This will add flavor and make sure that the jerky is still moist.
Most marinades for jerky include brown sugar, soy sauce, Worcestershire sauce,  smoked paprika, meat tenderizer, black pepper, red pepper flakes, onion powder, and garlic powder.  Try different combinations of these flavorings depending on your taste.
Ensure to marinate your meat for at least 12 hours.  In fact, our experts suggest leaving your meat to marinate in the refrigerator overnight.
Use your home food dehydrator at a lower temperature.  This will prevent the meat from drying too quickly on the outside, while still allowing it to dehydrate completely.
Beef jerky usually takes between 3-4 hours in an oven or home food dehydrator.  Other meats such as fish or turkey will need to be closely monitored.  
Now, let us determine how long to dehydrate beef jerky!
Thickness & Temperature Determine How Long To Dehydrate Jerky
Here are our recommendations to ensure the best result.
Turkey Breast
The breast is best for jerky as there is very little fat.  Fat in jerky may cause it to spoil!

Use ¼" slices and dehydrate at 165°F for about four hours.

If you want your turkey jerky chewy, then dehydrate for two to three hours and test.
Beef Jerky
For beef with 1/4" thickness, dehydrate at 155°F for six to eight hours.

If you want it on the drier side, dehydrate it longer.  Dehydrating beef jerky at 145°F for eight to ten hours will give you a drier jerky.

If you prefer it chewy, then dehydrate the beef for four to six hours at 165°F.

Dehydrating at a lower temperature will prevent the meat from drying out too quickly on the outside while still allowing it to dehydrate completely. 145°F is recommended.
Fish Jerky
Salmon, tuna, and even trout are all great for jerky.

Place fish fillets in the freezer for 20 minutes.  This makes them easier to slice.

Use 1/4 inch slices and slice length-wise.  We recommend then cutting into 3-4 inch pieces before marinating and dehydrating.

Marinate for at least 4 hours, but overnight is best!

Dehydrate at 145 degrees F for 3-4 hours.

Jerky should be dry and chewy but never crunchy! 
How Do I Know When Jerky Is Ready
Bend Test
To check for "doneness" remove a slice of jerky from the dehydrator and let it cool.  A couple of minutes should be fine.
Bend the jerky to 90 degrees and check to see if the is any moisture oozing.  If so, it needs more time to dry properly.
Good jerky will bend but not break.
Chew Test
Once your jerky has passed the bend test – pop it in your mouth and chew.
It should have a leathery texture without being dry or moist and not be brittle.
Best To Dehydrate Jerky With These Dehydrators 
You can easily make jerky of any kind in the oven.  However, it is a very messy outcome!  Our home food preserving experts recommend using a good food dehydrator to make the best jerky.
We have listed below the top 5 best-selling jerky dehydrators. You could also look to our post on 12 Best Dehydrators For Jerky [2022 Review].
Nesco FD-28JX JerkyXpress
Best Way to Store Dehydrated Delicious Jerky
Because of how lean beef jerky is, it will last well if stored properly.  The trick is to make sure you keep your jerky dry. 
Here are our top tips to safely store jerky.
Store in an Airtight Container
This will help keep out moisture and oxygen, which can both lead to spoilage.
Vacuum Pack
We recommend vacuum sealing it to totally remove the air from the container.
To do it properly, it is best to store dehydrated jerky using any of the following:
To further guide you, here is a video clip to show you how.
Store it in a Cool, Dark Place
Temperature fluctuations can cause the jerky to spoil, so a pantry or cupboard is ideal.
You also want to store the beef jerky in a cool, dark place.  Heat and light can also accelerate spoilage.
Finally, make sure that the beef jerky is completely cooled before storing it.  If you store it while it is still warm, it may allow bacterial growth.
Conclusion
In this article we have shown you exactly how long to dehydrate jerky for great results.
By following these expert tips, you can ensure your beef jerky turns out perfectly every time!  Try different cuts and marinades to find the perfect taste and texture for you.  In fact, get creative and try some fish jerky or turkey jerky, we love them!
Do you have any tips for dehydrating jerky?  Let us know in the comments below!
Happy dehydrating!