Best Home Preserving Equipment – Food Smokers
12 Best Food Smoker Reviews 2022
Craving some juicy barbecued chicken?  How about some amazing smoked brisket?  Time to fire up that home food smoker and get smoking!
Many people feel that the process of smoking food is an art.  It takes skill and finesses to get that perfectly cooked but still juicy and tender smoked meat.
For the experienced, a food smoker is more than just a tool.  It is a highly sophisticated appliance with multiple features and settings that can elevate your cooking to the next level.
You need to have a clear idea of the features and specifications of different food smokers before buying.  Whether you're looking to invest in your first home food smoker, or want to check the current best model of the year we've got you covered.  
In our best food smoker reviews for 2022, you will find some of our favorites from last year, but also some nifty new machines.  We hope you find what you are looking for!
Best Food Smokers Reviews For 2022
Our expert preserving team has tested the best food smokers on the market in 2022.  We found that a lot of food smoker reviews don't fully research the products on their list.  The most common articles we found simply serve up the top-sellers on Amazon. 
At Best Home Preserving our team is keen to show you the best home preserving equipment that is available today.  We understand that each individual has different needs and budgets so we have tried to include the best food smokers across price and ease of use.
Around the world, smoking food is popular because the process gives a distinct and unique flavor to food.  However, to get this process right, you need to make sure you use the best food smokers for the product, your space, and your budget. 
Everybody loves to get outdoors around a grill so have you looked at all the benefits of owning a top food smoker?
What is Food Smoking?
Smoking is the process of cooking, preserving, and flavoring food through the use of slowly cooked timber, charcoal, or wood pellets.
During the smoking process food is:
Slowly cooked over indirect heat for up to 12-16 hours.

Exposure to heat and smoke from a burning or smoldering source infuses flavor and kills any bacteria.
A long period of exposure allows heat and smoke to slowly penetrate foods giving them a smoky flavor and killing germs.  The depth of taste depends on the type of wood used.  Food smokers most commonly use cherry, mesquite, or oak.
There are many different varieties of food smokers and these are based on their fuel source.
Electric:    Use electricity as a fuel source to heat and burn the wood thus creating smoke.  While electric smokers are easy to use they impart the least smoky flavor to food. 
Propane:   Fueled by propane or natural gas they use flames instead of a heating rod to create smoke mostly from wood pellets.
Charcoal:   Compared to their electric and propane cousins the charcoal food smokers impart more flavor to the food. These units are cheaper and require fire to get the smoker going.
Wood:   These are the choice of smokers for experts in the field as they impart the purest flavor to foods.  They are tricky to operate and it can be difficult to maintain temperatures constantly at the specified levels. 
Pellet:   Similar to wood the pellet smokers make use of wood that has been processed into pellets. Like electric smokers, these too can be expensive but are easy to use.  You only need to load the compartment with wood pellets and fix the settings for simple smoking.
What To Look For When Buying A Food Smoker
Here are some factors you need to look out for in a food smoker.
Smoking Capacity and Size
Are you looking to cater for a family barbecue or a party? When selecting your best model consider the amount and type of food you plan to smoke.  The capacity of your intended food smoker must match your needs. 
Portability
You may have to move the unit in and out of a storage area if you lack a permanent outdoor space.  Choose a model that is lightweight and portable if this is the case.
Heat Sources 
There are advantages and disadvantages to each different heat source. For instance, an electric food smoker with its stove-like temperature regulator is the easiest to operate but expensive.
Propane smokers are ideal when you do not have a power outlet but you must check the levels regularly. 
Cost 
For beginners, investing in a slightly cheaper but equaly efficient model will be wiser.  It is important to decide your budget before you begin shopping as there are some very expensive models.
Features
You might want digital control features in your food smoker to automate the cook for you.  Or a set and forget specification. For most folk the art of food smoking is a form of cooking that requires active participation.  Decide how active a you wish to be in the process before your purchase.
Versatility
Some models have only the smoking function where others include a grill.  Always look for versatility but beware that while some lower-priced models promise multiple features not all of them deliver it.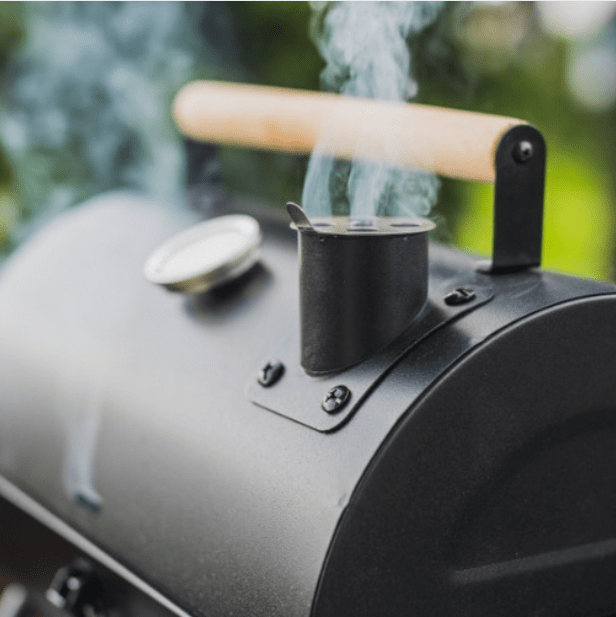 Conclusion
Now that you have read our comprehensive review of the best food smokers available you can choose wisely.  And if you found this review valuable read more of our valuable content on canning equipment, dehydrators, and vacuum sealers.
Find the ideal machine to keep your family and friends coming around for your amazing barbecues.
So light up your best food smoker and take your flavors to the next level.