Best Home Preserving Equipment – Food Smokers
7 Best Food Smoker Reviews 2021
Craving some juicy barbecued chicken?  How about some amazing smoked brisket?  Time to fire up that home food smoker and get smoking!
Many people feel that the process of smoking food is an art.  It takes skill and finesses to get that perfectly cooked but still juicy and tender smoked meat.
For the experienced, a food smoker is more than just a tool.  It is a highly sophisticated appliance with multiple features and settings that can elevate your cooking to the next level.
You need to have a clear idea of the features and specifications of different food smokers before buying.  Whether you're looking to invest in your first home food smoker, or want to check the current best model of the year we've got you covered.  
In our best food smoker reviews for 2021, you will find some of our favorites from last year, but also some nifty new machines.  We hope you find what you are looking for!
Best Food Smokers Reviews For 2021
Our expert preserving team has tested the best food smokers on the market in 2021.  We found that a lot of food smoker reviews don't fully research the products on their list.  The most common articles we found simply serve up the top-sellers on Amazon. 
At Best Home Preserving our team is keen to show you the best home preserving equipment that is available today.  We understand that each individual has different needs and budgets so we have tried to include the best food smokers across price and ease of use.
Around the world, smoking food is popular because the process gives a distinct and unique flavor to food.  However, to get this process right, you need to make sure you use the best food smokers for the product, your space, and your budget. 
Everybody loves to get outdoors around a grill so have you looked at all the benefits of owning a top food smoker?

Achieve amazing smokey flavor with terrific efficiency when you use the winner of our overall best food smokers for 2021! 

This machine made our food smoker reviews truly inspirational and allows anybody to BBQ like a professional. 

The upright design allows for 

six height-adjustable cooking grates to contain a variety of different foods.  Each grate has a 25-pound capacity to cook your whole meal in one place.

You get 1176 square inches of total cooking space and 784 square inches of smoking area in this monster machine. 

Remove trays to allow for the slow-cooking of larger cuts of meat, or leave all 6 in to feed family and friends.  

An offset smoker box allows for even heat distribution throughout this quality best food smoker. 

This nifty appliance even has a custom charcoal chamber to ensure briquettes stay tightly packed.  When you have space between the briquettes you lose burn efficiency and waste money and time.

This best food smokers ash and charcoal management system consists of a grate, and a sliding, removable ash pan made from steel.  This makes for easy cleaning once everything has cooled down.
 An in-built stainless-steel thermometer with an easy-read gauge makes monitoring the cooking temperature a breeze.

A "Smoke Zone" indicator lets you know when the temperature is right for infusing the best flavor.

Its smokestack comes with an adjustable flue to further aid temperature control and food flavor.  In fact, use the side dampers with the flue to help with the transfer of heat and have optimum airflow.

When considering the versatility and numerous features of the Dyna-Glo smoker, it easily claims the position of the overall best food smoker.

The Masterbuilt 30-Inch digital electric food smokers are perfect for beginners or pros alike.   

They are easy to use and deliver fantastic flavor without the hassle and grime of charcoal, or the space wastage of an offset smoker.

Simply choose your wood-chip flavor, load the food to be cooked, plug in the unit and flick the switch.  

Masterbuilt is a name synonymous with food smoking and BBQ.   With over 15 units available in the Masterbuilt line, trying to find the best food smoker for you can be tricky.

We chose the 30-inch machine to include in our food smoker reviews because it is easy to use and has some amazing features.

Be aware, this product often sells out on Amazon and is the reason it wears the "Best Seller" tag in our list of best food smokers reviews!

All Masterbuilt food smokers are solidly built!  The main chamber of this unit is steel construction with plastic trim and an aluminum interior. 

A generous 730 square inches of interior space allows ample room to feed a family.

This unit offers 4 removable trays to accommodate large or small portions and deserves its place in our best food smokers list!

What sets this terrific home food smoker apart from others in its price range is the digital control panel that is set into the roof.   With up to 24-hour programming available, this can truly be a "set and forget" operation. 
Control power, cooking time, and temperature with push-button accuracy so you will never have to worry about burning food.

A unique external wood-chip loading system lets you load wood chips without needing to open the smoker's door.  This keeps the internal temperature constant as there is no need to open the door to keep loading chips.  

With a top temperature of 275 degrees F, this is not the machine to use for hot and fast smoking.  It is, however, perfect for jerky, smoking fish, and tender, juicy slow-cooked ribs.
An added bonus is to buy the cold-smoking add-on kit and use this to turn your machine into a cold smoker.
The Masterbuilt 30-inch digital electric food smoker is classified as the best seller of food smokers

because of its remarkable features above and how easy it is to use. 

If you are looking for great value in a home food smoker then you have found it right here!

The Landmann Smoky Mountain Electric Food Smokers are a solid steel box that takes food smoking back to its traditional roots.

This 26-inch (66 cm) smoker has a see-through window that allows you to monitor your food without needing to open the door leading to lost heat and flavor.

With a 443 square inch capacity, 3 cooking trays and a 1500-watt heating element this compact machine really packs a punch.

Perfect for medium-density living, this trendy little machine would suit the apartment or condominium lifestyle.

Lacking wheels for easy mobility, the legs come with screw-out levelers making it perfect for outdoor use.

Take the Landmann Smoky Mountain on holidays, or to a friends for tasty BBQ, with handles on either side for easy lifting and carrying.
A porcelain-coated 3-in-1 combo tray serves as a wood chip box, a grease pan and a water pan. 

The grease diverter plate is meant to divert fats into the grease pan.  Our food smoker reviews experts had a little trouble with this and found that fat dripped into all 3 areas.

The cooking grates are chrome-plated and slide out, making them easy to clean.

With a dial thermostat to control heat from low to high this machine makes food smoking easy.  We suggest investing in a good digital thermometer to ensure even cooking of larger pieces of meat.

If you are looking for a compact, easy to use and great value best food smokers, go no further!  T

he Landmann Smoky Mountain may just be the right choice for you. 

Its solid construction with glass window makes it easy to monitor the smoking process.  Our expert food smoker reviewers loved the compact design and the fact that you just plug in and set the dial!
The Char-Broil Deluxe Digital Electric Food Smokers are one of a very large range of outdoor cookers from this iconic brand.  We chose this model for our best food smoker reviews for its capacity, portability, and affordability.
Being almost complete when it arrives in the box, all you need to do is place all items in the unit and do a "seasoning" burn before using.  

A stainless-steel exterior not only looks impressive but allows for easy cleaning and with 1000 square inch capacity it will feed the whole family.  

This easy-to-use and stylish best food smoker features an insulated, double-walled build that allows it to retain heat for extended periods.

4 stainless steel removable trays allow for large cuts of meat or tons of fish, vegetables, and smaller meats at any one time.  Super easy to clean.

The Char-Broil Deluxe Digital Electric Food Smokers have a control panel built into the top of the unit.  This simple but advanced digital interface uses an LED display for smooth operation.

With a user's guide included, our expert testers found they could easily use the control panel intuitively without having to study the guide.
A top temperature of 275 degrees F makes this unit a go-to for low and slow food smoking such as pulled pork or smoked salmon.
Heat is generated via a small electric element which makes temperature regulation a breeze.  An optional smoker box can be used with either pellets or wood chips to create smokey flavors.
There are 2 main operation modes:
Meat temperature mode:  will run the unit until the in-built meat temperature probe reaches your pre-set temperature.  This feature makes it simple to "set and forget".
Specified time mode:  We found this a more "hands-on" approach.  You will need to monitor the temperature manually and check different parts of the meat to ensure proper cooking.  Great for those who are passionate about everything home food smoking!
The smoker has a full-sized glass window, allowing you to easily monitor your food.  A side note here is that the glass does get very hot so you need to be watching if there are small children about!

This unit has no legs, so sits only a foot off the ground.  The testers in our food smoker reviews suggested using a stand or solid table for easy loading of food.  This also keeps the hot glass out of reach of children to avoid burns.

Weighing only 50 pounds and incorporating a handle and wheels, this pint-sized yet powerful appliance is great for camping or tailgating.  With its rectangular shape, it is much easier to fit into cars or truck-beds than the traditional "barrel" smokers.

There is also a side-locking latch on the door to provide a smoke-tight seal and prevent the loss of heat and flavor.

A removable temperature gauge is included to monitor cooking temperature.

The smoker box is relatively small and will only hold enough fuel for about 3 hours of smoking.

All these features of the Char-Broil Digital Electric Food Smokers make it easy to use and reliable.  With terrific capacity and portability, this nifty unit deserves its place in our top food smoker reviews for 2021.

The Weber name is another iconic brand so it was obvious that our testers needed to have a Weber included in our Best Food Smokers for 2021. 
We chose the 18-inch Weber Smokey Mountain for its ease of use, versatility, and price.  Perfect for beginners, this outstanding home food smoker is also popular with food smoking experts.
Easy to assemble – just attach the brackets and legs and clip the plastic cover onto the handle.

Constructed from premium-grade steel with a porcelain enamel coating on the inside and outside for durability and easy cleaning.  Weber offers a 10-year warranty on the body parts with a 5-year warranty on all plastic parts. 

Includes a cover to protect your Weber smoker from the weather.

The upright design takes up less space than the traditional "kettle" and is perfect for beer chicken or turkey.

Includes 2 18-inch chrome cooking plates which will take a full rack of ribs or a whole salmon for smoking.

The porcelain enamel water bowl holds enough water for well over 12 hours of cooking.  An added bonus is that the water bowl also regulates the temperature inside the smoker during cooking.  By absorbing the heat and slowly releasing it the water bowl helps keep the temperature inside the unit stable.
Add flavor to your steam by adding spices, herbs, or apple cider vinegar to the water bowl.  This will give your pulled pork a whole new taste sensation. 

Easily adjust the temperature by opening or closing any of the 4 in-built vents.

Doubles as a grill by moving the fire grate and ring to replace the water bowl.  Use the top grate to grill your favorite BBQ.

Comes in 3 parts for easy cleaning and transport making it great for camping or tailgating.
Top Section – the lid has a plastic-coated, cool-touch handle, an adjustable vent, and a built-in thermometer.
Middle Section – includes the 2 cooking grates and water bowl.  A swing-down aluminum door gives access to the lower cooking plate and allows you to add more wood, charcoal, or water while the unit is in use.
Lower Section – inside the base you will the fire grate and ring.  Supported by 3 aluminum legs it also includes 3 adjustable vents.  A stand-out feature of this best food smoker is an aluminum heat shield.  This is designed to protect whatever surface you are cooking on however, our team of expert testers still suggests using a grill mat.
With all the products in this food smoker review, the Weber Smokey Mountain 18-inch Food Smoker is probably the easiest to use, making it one of the best food smokers for beginners.

If you are looking for a wood pellet food smoker the Traeger name has been winning awards since 1986. 
The Traeger Tailgater 20 Pellet Grill and Food Smoker gives you 6 functions in one compact BBQ.  Smoke, roast, bake, grill, braise, and BBQ whenever and wherever you like.
This large barrel smoker will feed the whole family or even your buddies on game day.  Made from superior quality steel you can expect years of faithful service from your Traeger Food Smoker.

Solid in construction this unit is easy to move around with wheels on one side.

Traeger also offers excellent customer service and warranty on their products.

The Digital Arc Controller allows you to set and maintain the precise temperatures within the unit.  Accurate within 5 degrees, it can be controlled from a smartwatch or device.  Just download the Traeger smartphone app and you can control the cooking process within your Traeger Tailgater Food Smoker via Wi-Fi.
This cooker has a special keep-warm feature that retains your food's heat until you're ready to eat.

It has a maximum temperature of 450°F (232°C) so works very well to grill.

The grill grates are coated with porcelain, preventing food from sticking, and allowing the grates to be cleaned easily.

Folding legs allow for easy storage or transportation.  Take it camping or use it in your truck bed.  

The standout feature of this smoker is that it can be powered by both electricity and by burning wood pellets.

A built-in meat probe ensures accurate cooking anytime, anywhere.
With features that no other machine can match, the Traeger Tailgater Pellet Food Smokers takes out our Best High-End Food Smoker for 2021.   
The Digital Arc controller and smartphone app put this machine head and shoulders above its competitors.  Add in the "keep-warm" feature and Traeger are in a class of their own.

A Realcook 17-Inch Vertical Charcoal Smoker packs a punch at a truly affordable price. 
Finding one of the best food smokers for 2021 on a budget wasn't difficult once we found this machine.
Solid steel construction ensures durability and the matte black finish gives it a truly elegant look.

2 chrome-plated cooking grills allow 453 square inches of cooking space.

A crossbar inside the lid and 4 hooks make this a terrific machine for making beef jerky.

Get huge flexibility as you can smoke foods, roast, bake, grill, braise or steam.

With 2 access doors using this nifty food smoker is simple and easy.  Lift the lid for access to the top grill and monitor food on the lower grill by opening the top door.  Use the lower door to add more charcoal or wood depending on what you are using.

The smoker's handles are made from heat-resistant Bakelite, meaning you can carry it about comfortably and open the lid without needing mitts.

A porcelain-enamel water bowl keeps food moist and tender during a long, slow cook.  Add herbs, spices, or even apple cider vinegar to create some truly unique taste sensations.

The smoker has a latch-locking system that allows you to split it into two pieces.  Use as a smoker, a single or double grill, or even as a fire pit.

The built-in thermometer and adjustable air vent allow for easy temperature control and even cooking.

Strong legs for stability round out this compact food smoker.
If you are looking for one of the best food smokers on a budget, look no further. 
With flexibility, portability and great capacity, a Realcook 17-Inch Vertical Charcoal Smoker is a top addition to any backyard or balcony.  
What is Food Smoking?
Smoking is the process of cooking, preserving, and flavoring food through the use of slowly cooked timber, charcoal, or wood pellets.
During the smoking process food is:
Slowly cooked over indirect heat for up to 12-16 hours.

Exposure to heat and smoke from a burning or smoldering source infuses flavor and kills any bacteria.
A long period of exposure allows heat and smoke to slowly penetrate foods giving them a smoky flavor and killing germs.  The depth of taste depends on the type of wood used.  Food smokers most commonly use cherry, mesquite, or oak.
There are many different varieties of food smokers and these are based on their fuel source.
Electric:    Use electricity as a fuel source to heat and burn the wood thus creating smoke.  While electric smokers are easy to use they impart the least smoky flavor to food. 
Propane:   Fueled by propane or natural gas they use flames instead of a heating rod to create smoke mostly from wood pellets.
Charcoal:   Compared to their electric and propane cousins the charcoal food smokers impart more flavor to the food. These units are cheaper and require fire to get the smoker going.
Wood:   These are the choice of smokers for experts in the field as they impart the purest flavor to foods.  They are tricky to operate and it can be difficult to maintain temperatures constantly at the specified levels. 
Pellet:   Similar to wood the pellet smokers make use of wood that has been processed into pellets. Like electric smokers, these too can be expensive but are easy to use.  You only need to load the compartment with wood pellets and fix the settings for simple smoking.
What To Look For When Buying A Food Smoker
Here are some factors you need to look out for in a food smoker.
Smoking Capacity and Size
Are you looking to cater for a family barbecue or a party? When selecting your best model consider the amount and type of food you plan to smoke.  The capacity of your intended food smoker must match your needs. 
Portability
You may have to move the unit in and out of a storage area if you lack a permanent outdoor space.  Choose a model that is lightweight and portable if this is the case.
Heat Sources 
There are advantages and disadvantages to each different heat source. For instance, an electric food smoker with its stove-like temperature regulator is the easiest to operate but expensive.
Propane smokers are ideal when you do not have a power outlet but you must check the levels regularly. 
Cost 
For beginners, investing in a slightly cheaper but equaly efficient model will be wiser.  It is important to decide your budget before you begin shopping as there are some very expensive models.
Features
You might want digital control features in your food smoker to automate the cook for you.  Or a set and forget specification. For most folk the art of food smoking is a form of cooking that requires active participation.  Decide how active a you wish to be in the process before your purchase.
Versatility
Some models have only the smoking function where others include a grill.  Always look for versatility but beware that while some lower-priced models promise multiple features not all of them deliver it.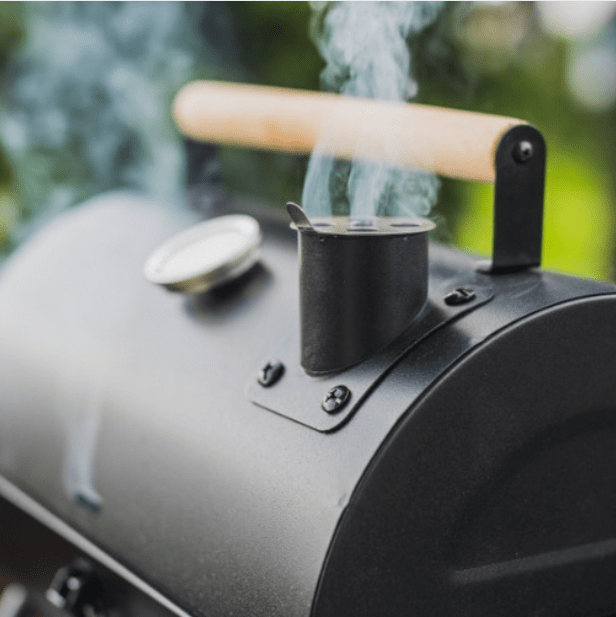 Conclusion
Now that you have read our comprehensive review of the best food smokers available you can choose wisely.  And if you found this review valuable read more of our valuable content on canning equipment, dehydrators, and vacuum sealers.
Find the ideal machine to keep your family and friends coming around for your amazing barbecues.
So light up your best food smoker and take your flavors to the next level.