Are you considering buying a food dehydrator for preserving and storing your foods long-term? The Excalibur food dehydrators may be just what you are looking for.
A food dehydrator is an easy appliance to make your own dehydrated foods right in your own kitchen.  Whether you are looking to use extra produce from your garden or buy from wholesale markets to create healthy snacks and treats.  Excalibur food dehydrators have a range of products to suit every need.  
We have found it difficult to find good quality home preserving equipment reviews.  By using a top quality home food dehydrator, you can control exactly what your family is consuming. 
There will be no unwanted ingredients that most commercially-produced dehydrated foods may use to extend the shelf life and make packaging easier. You also control the quality of the foods you use, and using high-quality produce makes for more nutrition and superior taste.
How is a Food Dehydrator Value for Money?
We all know it is important to eat lots of fruits and vegetables.  And, while it is best to eat fresh, it may be difficult to get all the servings you are supposed to, because of the sheer quantity involved.

However, dried fruits and vegetables are often easy to eat as a snack.  And, it is a terrific way to get your children to eat their vegetables.
You also reduce your caloric intake. Think about potatoes, sweet potatoes, kale chips. With a home food dehydrator, you get all the nutrition, a yummy taste, and your snack fix, all without added calories of frying in oils that may not be healthy.
Your home food dehydrator will save you money.  Dehydrated foods that you buy in supermarkets and grocery stores are quite expensive. If you buy organic, you will spend even more.  By investing in a good quality home food dehydrator, such as the range of Excalibur food dehydrators, you easily save money.  Create delicious snacks of dried fruits and vegetables, and you can also make delicious jerky at home, again a great saving. 

With making dehydrated fruits, vegetables, and jerky at home, you are all set for spur-of-the-moment camping trips.  School snacks can be sorted for months ahead and you can even stock food for emergency use.  All thanks to your Excalibur food dehydrator. 
Does it not make sense to invest in a high-quality, value-for-money food dehydrator?
Why Buy Excalibur Food Dehydrators?
The Excalibur food dehydrators come in a variety of sizes and colors in their square range.  While most of the range is black, there is a small, 5-tray white machine.  However, while the lighter color may look better in some kitchens, black is easier to keep clean. 
Ranging from 4 to 9 trays, there is a size to fit every family.  Excalibur food dehydrators also allow you to dehydrate a number of different foods at the same time. 
The best-seller in the Excalibur food dehydrator family is the Excalibur 9-tray with adjustable thermostat.  Giving 15 square feet of drying space, the adjustable thermostat allows for the safe processing of jerky, which requires higher temperatures.  At the same time, using low temperatures preserves the active enzymes in fruits and vegetables to keep their flavor and nutrition content.
These machines use patented technology (Parallex Horizontal Airflow), Hyperwave technology, for efficient and equal drying of foods.  This means a continuous circulation of hot air to remove water and moisture from foods. 
The Excalibur EZ Dry Stackable is around home food dehydrator that allows you to add more mesh screens for increased drying capacity.  This makes it perfect for large families.
Some Other Important Features Of Excalibur Food Dehydrators
Adjustable temperature via the thermostat – as mentioned above, different foods require certain temperatures to dehydrate safely and preserve taste.  Set the temperature low for delicate foods like fresh herbs, fruits, and vegetables and higher for meats. 
Patented Technology – Horizontal Parallexx Airflow and Hyperwave technology are exclusive to Excalibur.  They allow for faster dehydrating of foods to retain nutrients without the need for tray rotation.
Timer – set the time and forget about it.  Most of the Excalibur food dehydrators can be set for up to 26 hours. 
Automatic shut-off – you don't have to worry about food drying out too much or burning as the unit will shut off once the timer is finished.  For convenience, you can set it for overnight dehydrating if required. 
Large quantity dehydrating – with up to 9 rectangular trays that offer 15 square feet of drying area, these food dehydrators can do a fair amount of dehydrating at one time. Rectangular trays offer more space and are easy to insert and remove. 
Dishwasher-safe trays – easy to clean.
Removable trays – raise dough or dehydrate bulkier foods by simply removing some trays to create more space.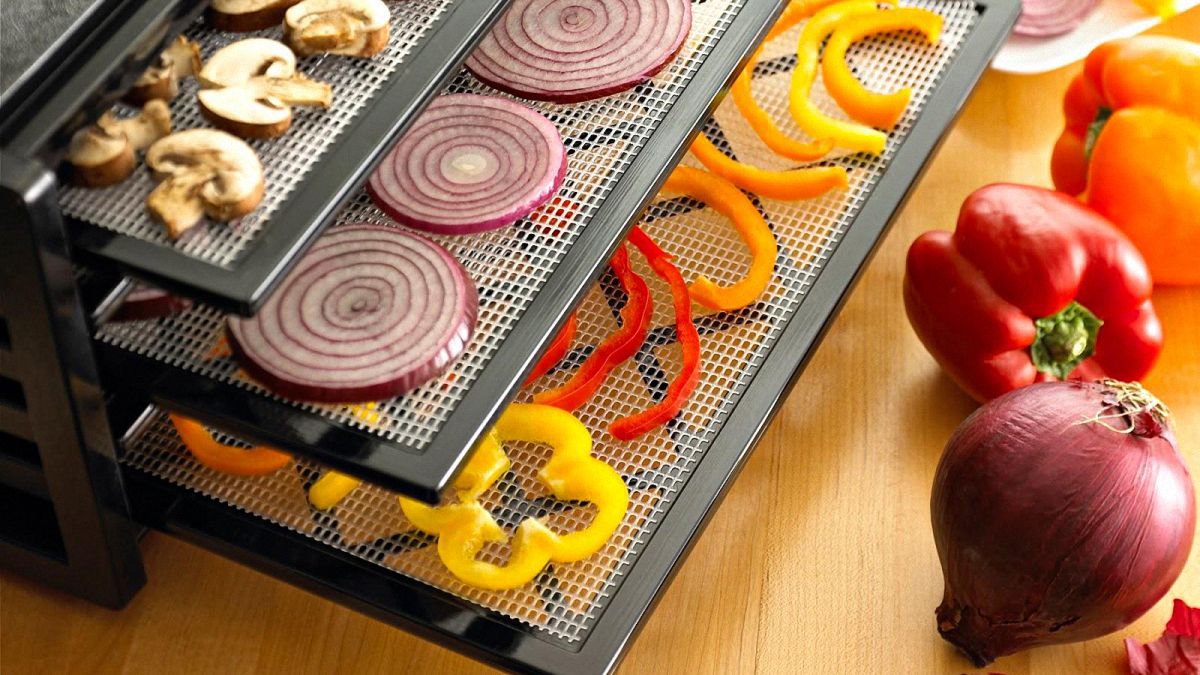 Though the 9-tray Excalibur food dehydrator offers a large drying area, its dimensions are compact at 19" X 17" X 12". It also consumes only 600 watts of electricity and the trays are BPA-free.
Starting from under $100,  the range of 4, 5 and 9 tray Excalibur food dehydrators come at a size and price for any budget.
Additionally, Excalibur food dehydrators are made in the U.S. and come with a 10-year limited warranty. 
Feedback From Excalibur Food Dehydrators
So, are there any downsides of the Excalibur food dehydrators?
Some feedback we found suggested the units are quite loud when in use, however, others have stated only a minor humming sound. We found the noise level quite tolerable.  Of course, if you do find the noise disturbing, you can put it outside or in an area where you do not have to hear the sound, such as the garage. 
The patented technology is a real game-changer.  With even air-flow and heat distribution, Excalibur food dehydrators really are a "set & forget" appliance.  The toughest decision you will have to make is "Which size is best for you".